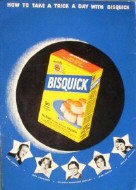 They came on everything that General Mills sold, even sponges and mops when the company manufactured cleaning supplies! First introduced in 1929, they were a way that household supplies and gadgets could be sold by mail at a savings. The big thing was Oneida pots and pans. You could also get some unique General Mills brand merchandise, like Cheerios bowls.
The coupons had expiration dates many years into the future. The Betty Crocker Catalog went out of business in August 2006 with everything in it being liquidated, with the coupons working until December 15, 2006, even though they had a date printed on them in 2012!
In 2007, the whole program was put online, though it isn't done through General Mills, but another company. Its website is
here.